DAY OF THE DEAD LITERATURE
Most collectors of the Living Dead were not aware that a novel existed for this movie until 1999 when I scanned the cover on an earlier version of my website. Toru Okayama wrote up the story for Japanese publishing giant Kodansha. Part of the 1986 'X' series (ISBN: 4-06-190053-6 C0197) which included The Return of the Living Dead, Enemy Mine, The Bride and Fright Night, among others, the cover featured the nightmare scene of the wall of arms. The book is 174 pages including the black and white pictures, color section and "Making of" chapter at the end. Originally sold for 340 yen ($3.11 US) but now worth $150-up in the U.S. due to its exclusivity and rarity. An American horror collecting guide erroneously listed an American Day of the Dead novel was published in 1988 by Simon and Schuster but this is untrue. The only Dead-related item from that company in 1988 was the Night of the Living Dead audiobook.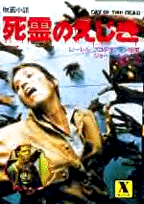 The novel stays faithful but the "Prologue" is almost a prequel, telling the story of how the dead population rose due to a comet (keeping with the Japanese Zombie explanation), increased through the eyes of Ben. Then through the perspective of a wandering zombie near a mall in Philadelphia (not Pittsburgh) just as bikers are invading. The language is not nearly as vulgar as it was in the filmed dialogue, playing more like a television script, and the gore scenes are not described in great detail.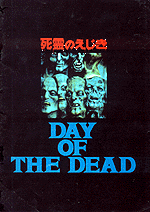 Two program books were issued in Japan. The first is the fairly common standard theatrical one. The second was a rarer, special posterbook which folds out to style C poster (20x28).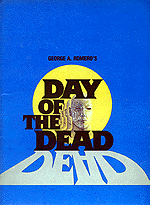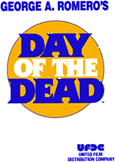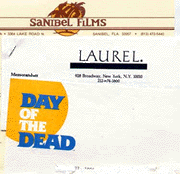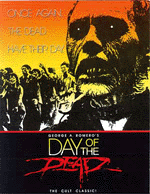 The original 1985 US presskit came with a blue folder with the poster artwork, a white production booklet (white cover with blue logo) and 10 black and white stills each with film logo (see posters and lobby cards section). Some kits also came with stationery and studio letterheads. In 1993, Taurus Entertainment put together a new brochure, utilizing the old Chiodo graphic seen on the Media video cassette.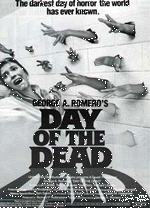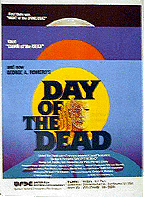 US 10x14 Screen (magazine) international full-page ads
Sarah and wall of arms drawing in black and white. This has "the darkest day" blurb however instead of the Halloween tagline. On the right is an advance ad.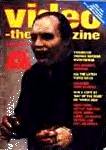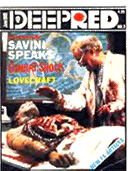 For info on the magazine articles, please see Bibliography.