GEORGE A. ROMERO
Compiled by T5
George Andrew Romero was born in the East Bronx on February 4, 1940, the only child of a commercial artist father and homemaker mother. "We lived in a big Brave New World apartment complex. It was surreal with gargoyles and statues carved into the walls. There was a little patch of sky between the buildings that could barely be seen by looking straight up."
Self-professed 'fat kid', he shot films with a Revere 8mm camera in his teens. (These are not available for viewing and in most cases, never completed anyway.) A policeman saw Romero throw a burning dummy off a Parkchester roof and arrested the young filmmaker. His only explanation was "but we're making a movie!"
After being sent to parochial school just after World War II, Romero began to fear the atomic bomb.

1953 The Man From the Meteor
1954 Gorilla
1955 Curly/Slant
1958 Earthbottom
1962 Expostulations (16mm)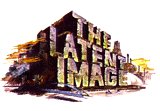 Art! By George!

The Latent Image was established in 1961 by George Romero. Enlisting Richard Ricci and Russ Streiner, $500, a 16mm Bolex camera, and a few lights. Russo would join them after he returned from military service. Ricci found the Carson Street (Southside Pittsburgh) office where they struggled to make ends meet, borrowing money, sometimes not eating for days, just to pour more money into the business. Ricci was drafted into the military, and as a going away present, he pre-paid the rent for six months. The work was not always frequent. When it did come, Romero, Streiner and Ricci would work themselves to exhaustion falling asleep on the studio floor. Oftentimes they would not get paid for months.

Jack Szwergle, then-owner of the only movie lab in Pittsburgh, is the man most responsible for allowing Romero to learn film editing. "I went down there and asked how do you put sound on a movie? John and his staff processed Expostulations, taught us what work prints were, what edge numbers were. They allowed me to play around with the machines and synchronizers. I was completely hooked." (Village Voice)

In 1963, in response to an ad looking for investors, Vince Survinski donated $10,000 towards a film project scripted by Rudy Ricci, Richard's cousin. Though the project fell through, Survinski was ready to donate another $10,000 under the terms that he could become a partner in the business. Everyone agreed.

Larry Anderson, another partner in the company, brought them the largest paying job they ever had: $1600 to do a commercial for the Buhl Planetarium. It was a success, even for a low-budget commercial, and even got screened during intermissions at area drive-in theaters.

Regional Industrial Development Corporation loaned the company $30,000 in 1964, which allowed LI to move their office to Ft. Pitt Blvd in downtown Pittsburgh. Most of their commercial work for high-profile companies like Heinz, Duke and Iron City Beer, U.S. Steel, Alcoa and Calgon, cost around $6000 or less. During the next three years they took top awards in the New York International Film Festivals, 37 awards in all, beating out commercials that cost up to ten times the budgets of each of Latent's work. "We had gotten a reputation in some circles as being an energetic nucleus of creative maniacs who could make good films for those who couldn't afford or didn't want to spend very much money," Russo wrote in 1984 in, "but most of the time we were broke, frustrated and physically and mentally exhausted."

Romero, Russo and Ricci were having lunch at Samreny's Restaurant on Pittsburgh's Market Street in January 1967 when Russo pitched the idea of trying to make another full-length film with commercial potential – one that would hopefully break them out of the ad business and into the movie industry. Now they had a 35mm Arriflex purchased used for $3500, the cost of one commercial. They decided the best way was to make a horror movie, or "Monster Flick" as they called the project.


CONTINUE the story....

FILMOGRAPHY

Feature Films As Director

1968 Night of the Living Dead (Walter Reade Org.-Continental Distribution)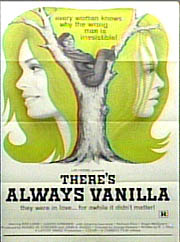 1971 There's Always Vanilla
Retitled "The Affair". Available as a bootleg.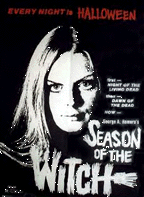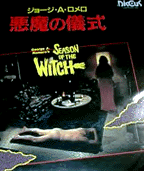 1971 Jack's Wife
Retitled "Season of the Witch" and in soft porn markets as "Hungry Wives". Available on video from Anchor Bay Entertainment. Previously released on VHS in the US on Wizard Video (1981) and Vista Video (1986). In Japan on laserdisc (LVB-1016) in 1986.

1973 The Crazies
Based on 'The Mad People' by Paul McCullough. Originally shot as
"Code Name Trixie". Released as "City of the Mad People" in Italy and
Experiment 2000" in France. Available on video from Anchor Bay Entertainment.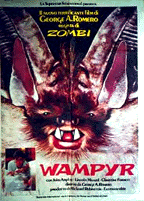 1977 Martin (Laurel/United Film Distribution)
Released overseas as "Wampyr" and "Return of the Living Vampires". Available on video and DVD from Anchor Bay Entertainment. Soundtrack by Donald Rubinstein on Varese Sarabande Records.

1979 Dawn of the Dead (Laurel/United Film Distribution)

1981 Knightriders (Laurel/United Film Distribution)
Originally scripted as "Knights". Available on video from Anchor Bay Entertainment. Soundtrack by Donald Rubinstein. A limited edition score cassette was issued to crew and cast and has turned up in bootleg CDR form of late.


A French LP cover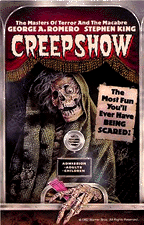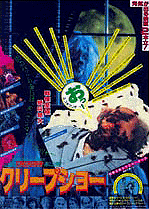 1982 Creepshow (Laurel/Warner) Released in 1986 overseas
Screenplay by Stephen King. Available on DVD from Warner Home Video.
Soundtrack by John Harrison.

1985 Day of the Dead (Laurel/United Film Distribution)
1988 Monkey Shines Based on Michael Stewart's novella. Originally titled "Ella". Available on DVD from MGM Home Video.

1989 Two Evil Eyes (rel. 1991 by Taurus Entertainment)
Two tales in one film based on Edgar Allen Poe. Romero directed "The Facts in the Case of M. Waldemar", Dario Argento the second tale.
A German poster

1993 The Dark Half Based on Stephen King novel. Released as "Stark" overseas. Available on DVD from MGM Home Video. Soundtrack on Varese Sarabande Records.
2001 Bruiser (Lions Gate)
Seen theatrically in very few areas and only at festival screenings; Available on DVD and VHS from Trimark.

Films As Screenwriter Only

1987 Creepshow 2 (Laurel/New World)
Directed by Michael Gornick.

1990 Tales From the Darkside: The Movie (Paramount)
Directed by John Harrison. Writer, "Cat From Hell" segment.

1990 Night of the Living Dead (Columbia)
Directed by Tom Savini.

Feature Films With Cameos

1981 Document of the Dead

1985 Flight of the Spruce Goose (Japan)
Shot in Pittsburgh. George plays a teacher named Gromero.

1987 Morgan Stewart's Coming Home
Jon Cryer comedy features a George Romero impersonator signing copies of a hardcover Zombies That Ate Pittsburgh in a mall's Waldenbooks.

1988 Lightning Over Braddock: A Rustbowl Fantasy

1991 Silence of the Lambs
Jonathan Demme's Best Picture of 1991 Oscar winner shot in Pittsburgh. George plays a security officer in the hotel.

Films As Editor

1970 At Play With the Angels (unreleased 30min. film)

Films Ghost Directed

1974 Spasmo (Romero shot the graphic death scenes for US release; Umberto Lenzi film)

Films That Almost Were

1965 Whine of the Fawn (screenplay)
1977 Attack of the Zilches
1978 Gunperson (1973 treatment - an all female Western); Shoo Be Doo Be Moon (Rudy Ricci-script)
1979 Salem's Lot; The Necronomicron
1982 Frankenstein (teleplay treatment); The Phantom Strikes (Laurel)
1983 Firestarter (offered directing duties)
1985 Invasion of the Spaghetti Monsters (Laurel)
1986 Mayday; Mongrel: The Legend of Copperhead (for Marvel/Laurel); Pet Sematary (Laurel)
1987 War of the Worlds (Paramount); Whiz Kid
1987 Creepshow 3; The Stand; Graveyard Shift (exec. prod. for New World)
1993 The Black Mariah; Unholy Fire; Before I Wake (New Line)
1994 Jacaranda Joe (Sanibel Films)
1998 Resident Evil (S.T.A.R.S.) (Constantin Films); Night of the Living Dead TV series (Granada TV)
2000 The Ill; Carnivore; The Girl Who Loved Tom Gordon
2001 The Assassination; "Dead Reckoning"; Grundy

TV Shows

Tales From the Darkside
1983 "Trick Or Treat" (pilot teleplay/director)
1985 "The Devil's Advocate" (teleplay)
1987 "The Baker's Dozen" (teleplay based on "The Gingerbread Witch" by Scott Edelman)
"Circus" (based on a short story by Sydney Bounds)

Music Videos

1999 The Misfits "Scream" (featured in Bruiser)

Commercials

Biohazard: Resident Evil II (Capcom Japan)

Sports Documentaries

1973 The Winners (* producer only)
Kareem Abdul Jabbar: Nobody Roots For Goliath *
Mario Andretti: Driver *
Lou Brock: The Thief
Franco Harris: Good Luck On Sunday
Reggie Jackson: One-Man Wild Bunch
NFL Films: The 27th Team
Johnny Rutherford: The 11-Year Odyssey
Bruno Sammartino: Strong Man
O.J. Simpson: Juice On the Loose
Willie Stargell: What If I Didn't Play Basketball?
Tom Weiskoff: On Tour
The WFL Story

Documentary/TV Guest Appearances

1973 The Independent Filmmaker (Latent Image)
1982 Nightcap (PBS)
1985 Entertainment Tonight (on the set of Day of the Dead)
West 57th (Romero profile)
PM Magazine (on Day set)
1986 Fangoria's Scream Greats Vol. 1
1987 Drive-In Madness
1988 Movietime! (On the set of Monkey Shines)
1989 Incredibly Strange Film Show
Good Morning America (on set of Two Evil Eyes)
1990 Horror Hall of Fame (Night/Living Dead honor)
Inside Edition (on the set of Night remake)
MTV's The Big Picture (Night remake)
1993 Night of the Living Dead 25th Anniversary Documentary
Zombie Jamboree
1994 SciFi Channel TV commercial
1995 Emotion Perfect Collection interview (a.k.a. House of George Romero)
1998 Cinemax "Romerothon" host
1999 TNT MonsterVision "Creepshow" broadcast host
2000 American Nightmare (aired on Independent Film Channel)
2002 The Directors (aired on Encore Channel)
Mystery Channel Halloween Scareathon

Books
1981 "Clay" short story in Modern Masters of Horror (published by Coward, McCann & Geoghegan)
1974 Night of the Living Dead Novel Preface
1978 Martin Novel co-author with Suzanna Sparrow
1979 Dawn of the Dead Novel co-author with Suzanna Sparrow
1983 Grande Illusions Intro
1985 Night of the Living Dead Filmbook Preface
1986 Book of the Dead Foreward
1987 The Zombies That Ate Pittsburgh Biography
2000 The Death of Death Web Novel
---