night OF THE LIVING DEAD VIDEOS
The home video history of Night of the Living Dead is voluminous, and compiling it proved seemingly endless and exhaustive to this author. I have picked out the most exceptional video copies of interest to report on.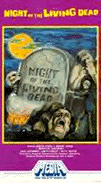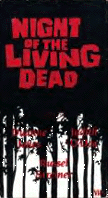 The earliest surviving video cassettes are usually from Media Home Entertainment. The first (M-1015), from 1978, simply had a photo of Judy in the truck on the cover. The second from three years later utilized zombies approaching the porch during the blackout. The third (M-113) is most common of these, released in 1982 with a purple box and a painted collage cover. Though the picture was among the best available for this time, the first few seconds of the audio is flawed. Memory Lane Video (14200) a year later sold an SP-recorded version with a very loud audio mix and overly bright contrast. The cover was subtle, even arty: a black tree-like silhouette with original NOLD logo in red; there's a typo on box for 'Duanne Jones'. Back cover reads: "Possibly the greatest low-budget film of all time filled with non-stop action…"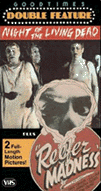 1985 was a banner year for commercial releases of Night. First up is Spotlite Video's (V7460) with its painted collage design and exploitative "They'll Eat Your Heart Out" blurb. The print appears to be the same one from Media. Back cover imaginatively (if not erroneously) adds: "A scientific experiment in space sends high level of radiation to earth, turning buried corpses into walking zombies who roam the countryside eating the flesh of the living." Goodtimes Home Video (VGT-5017) emerged with their LP-recorded copy (the first of many to come), with surprisingly good contrast. This first version has the famous still of a group of zombies on the front colorized and generic bloody-lettering for the title. Interglobal Video borrowed the striking UK novel's art for their video which was reissued in 1986 with Logo with red and black "cracked" pieces, cast in yellow. Video Treasures debuted on the scene with their first of many NOTLD's (HO-5001) with its generic red border and marquee title design with stills at bottom. Surprisingly it's an SP tape. Hal Roach Studios (V033) were first to faithfully reproduce the original poster art with a teal border (part of their "Award Quality Movie Greats" series). Crown Movie Classics (863804) used it too, superimposing a different logo and using a greyish border. An amusing observation by the company appears on the back cover: "The cast of unknown actors prefers to remain that way." It also bears the incorrect release date of 1970. Subcompany RSVP (Royal Sound Video Prod.) reissued the same packaging a year later. The "Hollywood Movie Greats" edition (HMV-8017) from California Video, slapped the famous still of the zombie group previously used by Goodtimes. Easily one of the poorest quality tapes was Video Classics (VCC-938); recorded in LP mode with a simple red cover of Ben with his rifle out a window. They would reissue this in SP mode a year later with slightly different box art. In 1988, their Troy Gold series would yield a nicer, green cover with two zombies painted (see below)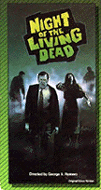 Other than the aforementioned, 1986 started with a series of reissues. Congress Video's tape of Ben carried onto the bonfire was the same as Memory Lane Video. Goodtimes Home Video paired it with Reefer Madness on one EP recorded tape (VGT-8802).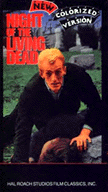 October 10, 1986 saw the release of the first colorized edition from Hal Roach Studios/Video Treasures who swore to us that "they scream louder in color!" The cover had a bright green cemetery zombie lurching over the fallen Johnny. Critic Roger Ebert noticed the clouds, tombstones, Barbara's trenchcoat and the hair of the zombie were all the same shade of grey. The zombies are all bright green as the cover suggests, something even Romero found funny. This is the same version that debuted on TV the same month. This video was reissued in 1990 and then in 1993 by Best Home Video. The British later released this to DVD.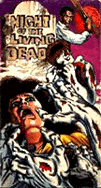 United American Video's NOTLD (74) led the way for the 1987 crop of videos. Two LP versions of this exist that I know of; one with a reel countdown and another being the darkest print of the film I have ever seen with 'moire' images all over the screen. The cover was simple, a drawing of a bloodied tombstone with the cast members' names on it. Back text same as the Memory Lane version. Reissued in the next few years. Star Classics Video (3143) returned with a reissue of their 1985 budget tape, this time packaging it with a colorful collage of comic-book style zombies on a purple background. The entry in "Movie Favorites" from Trans-Atlantic Video (70007) had a simple cover: black with a still of the zombies cowering from fire. And even simpler was the back copy: "How could they stop the menace....when they can't kill diabolic beings that are not even alive?"
Two very different prints appeared in 1988. New Age Video's LP-mode tape (33017) in their "Greatest Film Classics" library was a Movielab print that had "The End" after the closing scene of the bonfire; The cover, of a red film strip with the famous group of zombies still had yet another typo (Dwight Jones). Quality Classics issued their Night (19398) in their "Preferred Collectors Series". Its gold/black cover was mainly taken up with a close-up vidcap of the cemetery zombie. The print is one of the brightest around and recorded in EP. Back cover mentions that the zombies were brought alive by radiation from a 'rocket ship' and that cites Romero is the director of other well-known classics (The Crazies, Hungry Wives)!
Another EP mode VHS surfaced in 1990 from Republic Home Video (7460) with the same famous still of zombies under white lettering. What is remarkable is that the back cover suggests a different movie: "When an unsuccessful rocket launch causes radiation fallout over a small rural town, the recently buried corpses are resurrected and crawl out of their graves in search of human flesh. As they begin their mindlessly cannibalistic trek across the countryside, they devour human beings that have managed to avoid the radiation."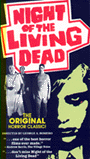 Jump ahead to 1992. Diamond Entertainment Corporation's edition (D1025) with its authentic reproduction of the collage poster art creates some hyperbole about its source print being a 35mm nitrate fine grain print. In reality it was merely the Movielab print with The End title at end. Some versions are LP and very dark; others are in EP using a different non-Movielab print. Collectible and worth seeking out is the JTC Video (8054) which is the only tape to include the 1982 George Romero intro in black and white (the one shown on cable broadcasts) AND the Walter Reade Organization leader! The cover is a combination of Karen Cooper's face and the famous still of zombies. No number was assigned to GoldStar Video's EP copy, entry 9 in their Tales of Horror series. GoldStar actually used a vidcap of Karen wielding her trowel.
Burbank Video's "Hollywood Favorites" (BV1938) with its purple border used the collage art once again and was a typical EP mode recording. Also from 1993 was a double tape set commemorating the 25th Anniversary from Simitar Video. This time, the collage art used raised lettering. Horror star John Carradine intros the EP-recorded tape ("I didn't know they made movies in Pittsburgh!"). The second tape is a video documentary (released first on Tempe Video) with George Romero, John Russo, Russel W. Streiner and Karl Hardman in yet another 'roundtable' interview. Hardman and Marilyn Eastman show off a few of their private stills and related items. There are also comments from John Landis, Wes Craven, Tobe Hooper, Sam Raimi and others under the NOTLD influence.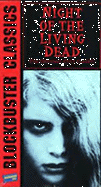 By Halloween, Blockbuster Video offered their copy with a still of the Karen Cooper face. Two versions were pressed: a red logo version and a green/purple.
A year later, Alpha Video (33017) had a cover similar to the old colorized Video Treasures' but with awful bloody lettering instead.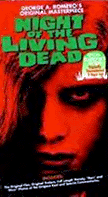 The best VHS to own is the 1995 two-tape set from Anchor Bay Entertainment (SV9874) with the red tinted face of Karen Cooper on the front. Aside from being the super-clean Elite Entertainment transfer, you get a trailer, a TV spot and a short parody from Kevin O'Brien called "Night of the Living Bread". A reissue in 1998 (SV10451) was identical but with a tan box and purple, rather than green, letters.
Goodtimes Video (05-08611) used the U.K. reissue art 1990 and 1996. Print is the Movielab, and dark! In the late 90's, Canadian distributor Madacy Entertainment obnoxiously re-issued NOTLD at least five times in varying packages under the "Horror Classics" banner. Madacy is a company affiliated with Anchor Bay so it's not surprising that they know a cash cow when they see one.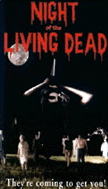 Best Film and Home Video #995 (colorized) 1990
Cover: drawing of Karen stabbing with vidcap of zombies on lawn.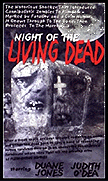 Platinum Home Video 02203
Cover: Weird tombstone face design.



BLM

Alpha Video 33017 1994
Colorized cemetery zombie over Johnny; bloody letters.

Canada (Madacy "Horror Classics" (w/The Human Monster) 2-tapes 1995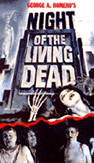 Goodtimes Video 05-08611 1996
Quad reissue art on top/still at bottom) this LP video says 1990 on back but tape is 1996. Print is the Movielab, and dark!

Canada (Madacy "Horror Classics" FTW-3-4241) 1997

Anchor Bay Entertainment [Video Treasures] SV10451 1998
Brown tinted Karen Cooper face, purple lettering.

Canada (Madacy BCV-3-7332) 1998
"Hollywood Classics". Wine colored cover with Barbara fleeing Johnny/ghoul fight in cemetery.

Canada (Madacy) 1998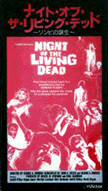 Japan (Victor JHF-0101) 1985
Also on BETA (Victor JBF-0101).




Japan (RF-1030) 3-26-92
Blue tinted collage cover. Colorized edition.

Japan (SHVY133) 8-21-97

Japan (Beam Entertainment BBVF-1023) 8-25-98
Like the DVD counterpart's cover, with fewer special features.

Japan (TKVT62336) 2-25-00
Japan (TKVT62337) 2-25-00

VHS PAL TAPES:
UK (Intervision)

Netherlands (STV HO6500)
Cover: Ben, Barb and Tom.

Germany (Eurovision)

Australia (CEL 900565) 1986 colorized
Collage cover.
Same as Video Treasures synopsis.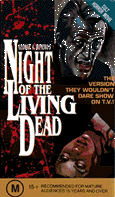 Australia (VDI-Video Distributors International 50419) 1983
Hinzman face. Front: The version they wouldn't dare show on T.V. !

Australia (CEL 900565) 9-1-87
Colorized.

Australia (Satellite) 2-18-92

Australia (Force PR172) 12-1-96
Cover uses UK quad reissue scheme. Back reads:

UK (4 Front Video 083-906-3) (PolyGram/Palace) 1994
colorized; same as US except zombie on cover is green.

UK (Tartan Video 1113) 1995
25th Anniversary Edition. US poster art.

Sweden
UK novel art.

VHS SECAM Tapes:

France

Hi8 Tapes:
Video Yesteryear