NIGHT OF THE LIVING DEAD UNLICENSED ITEMS
T-Shirts:
Maroon-collage in white
Black-collage with logo in green (Chaser Wear, 1990)
German-Black-Harry 1988
German-White-Harry 1988
German-Black-Helen screaming 1988
Black-Karen face/green logo (Imagine) 1988
Black-Karen face in circle design/green logo (Imagine) 1988
Black-Johnny 1990
Black-Cemetery zombie 1990
Black-Karen face (looks like the cover of The Complete Filmbook) 1996


Black-Bill Hinzman zombie (Ken Kish-Video Wasteland) 1997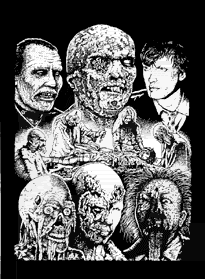 Black-Fulci's Zombie, Dawn of the Dead's baldy, Day of the Dead's Bub, Dr. Tongue, ROTLD Tar Man, Johnny from NOTLD. Back says "When there's no more room in hell, the dead will walk the earth" (Chas Balun for Blackest Heart Media) 199
Karen Cooper stuff (available from www.theghoulnextdoor.com)
Button
Black-Karen face ("I Hurt" on back)
Black-Ghoul next to tombstone
White-Ghoul with trowel-in red
Trowel
Keychain
Trowel neckchain pendant

Resin Models: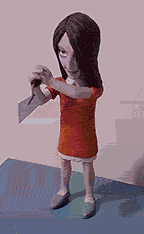 Cemetery Zombie and Karen Zombie (Attack of the Clay People!; Barry Crawford) 1993

Dolls




Karen Cooper (Andrew Gore, 2000)
With Kyra Schon signed "living death" certificate.

Trading Cards:

Rosem Entertainment 1987
50 cards of images scanned from the film.
Fan Art:



Caricature print. 11x17. Ltd. ed. of 100. Artist Brian Davis.