NIGHT OF THE LIVING DEAD MISCELLANEOUS (OFFICIAL)

Production Materials: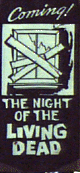 Advance banner
Designed by Romero's father, original banners read "Flesheaters"

Night of the Flesh Eaters stamped stills
Night of Anubis stills

Crew Shirts:
None produced.

Press Materials:

US presskit
Scan from collection of Jeff Carney. 20-pages, no pics; includes Latent Image stationery letter from John Russo to the press, synopsis, breakdown of settings/cast; cast profiles.

US press sheet 11x17
US press book 11x17 (Continental) Showman's Campaign w/herald flyer



Scrapbooks by Hardman-Eastman
Collection of Jeff Carney. 3 versions, around 130 pages each, 30 copies made. First volume shown.



Scroll (Insurance for Death During Screening)
From collection of Jeff Carney.


Industry Ad
Scan courtesy of Jeff Carney.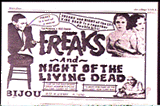 Freaks and NOTLD double bill ad

UK press sheet
German press sheet
French press sheet

Masks






American Mask and Novelty, 1990 - Graveyard Ghoul, Dead John, Mangled Marilyn, Creepy Karen

Trading Cards:

20th Anniversary set from Imagine/FantaCo (green border) 68 cards 1988
red border reissues 1990

Comic Books (Fantaco)
'91 Chapter 1
'92 Prelude, Chapters 2-4, Aftermath (also in softcover and hardcover limited edition of 150)
'93 Night of the Living Dead London (2 issues) Book 1-Bloodline/ Book II-End of the Line
(also in hardback) art by Carlos Kastro, story by Clive Barker
'94 Complete graphic novel (except Prelude and Aftermath)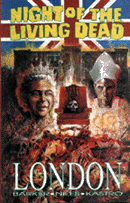 '94 Living Dead London Graphic novel
'94 Night of the Living Dead (0-3) 4 issues

CD-ROMS
CD Titles under license from Alpha Video 1996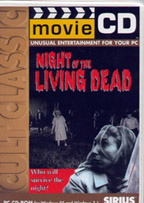 Sirius Publishing 2CD 1997
Group of ghouls approaching and Barbara screaming on bottom-clamshell

Chestnut
Brown insert

Wearables:
Hat-Market Square Productions (NOLD Logo embroidered) 1998

Etc:




Lighter (Neco) 2002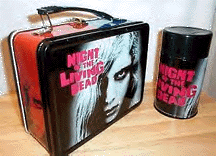 Lunchbox (Neco) 2002
One of the Anchor Bay licensed items found at Suncoast and ebay. Overkills the Karen face - no other still to be found on this box.

NIGHT OF THE LIVING DEAD 25TH ANNIVERSARY TRIBUTE/ZOMBIE JAMBOREE ITEMS

SHIRTS:
Staff (green golf shirt with Karen face in pocket area)


Black (Karen face)
Black "Keep Movin' ….Or I'll Eat You"
Zombie City-Pittsburgh (Terry Prince)


Program (Cemetery zombie art cover)
Video (Imagine, 1994) clamshell cover of program book art

Zombie Buck

Zombie Blood Barbecue Sauce/Devil Pet Food (a Hardman-Eastman product)

Zombie Dirt (collected by Bob Michelucci from Evans City Cemetery)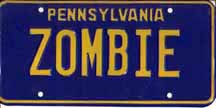 Pennsylvania Vanity Plate-ZOMBIE
Pennsylvania Vanity Plate-NOLD25



25th Anniversary set of silver promo cards (#15, 16 and 52) 1993 (as in silver anniversary)



25th Anniversary set of 8 color cards (gold border) 1993

Toilet paper (just kidding...I made this up)

Collectors Plate (cemetery ghoul)
Johnny's sunglasses



Helen watch
Watchface image is a bloody face of Helen cooper. says night of the living dead on top and at the bottom says Marilyn Eastman. In a leather case signed on the top by Marilyn.

MAKING OF/BEHIND THE SCENES:

Night of the Living Dead 25th Anniversary Documentary (Tempe Video)
60m. original collage design. Also released on Simitar Video with movie. Mostly talk with Karl Hardman, John Russo, Russ Streiner, George Romero.

Same as above but in PAL (Edge20)

Resin Sculptures: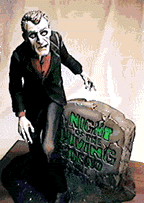 Bill Hinzman's Cemetery Zombie (Bryan Moore, Monsters in Motion) 1994
Licensed by Bill Hinzman productions, every kit comes with box art, tombstone and base, and 8x10 glossy signed by Hinzman.



Karen bust (Chris Stavrakis, Grecian Urn Studios) 1997
In black and white or colorized versions.



Fridge Magnets-Corpse, Karen, Cemetery Zombie, Insect Eater (Grecian Urn Studios, 2000)
Sculpted and painted by Chris Stavrakis.

Promo Items:





Button-Hal Roach Studios 1986
Promoting the colorized version. Hologram; Cemetery zombie with "They Scream Louder in Color!"

Button-Comic books (woman face/green logo)



Button (Karen face)