NIGHT OF THE LIVING DEAD DVDS & LASERDISCS
DVDs: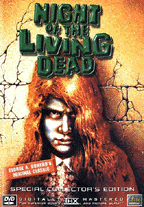 US (Elite Entertainment EE1116) 8-6-97
Same cover as CLV Elite LD. Includes everything but the collectibles, script and video interviews. 31 chapters. THX approved transfer.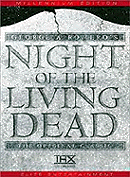 US (Elite Entertainment EE1117) 3-12-02
"Millenium Edition". Same program as above but with all the extras in the collectors laserdisc. 5.1 stereo.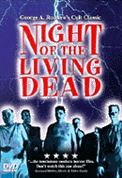 US (United American Video Distribution UAVD40081) 7-15-97
Looks a lot like the Republic Video cover with lightning and pajama zombies. Ten chapters, poor picture quality and commercials for OTHER UAV features.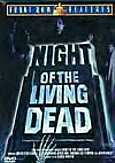 US (Front Row Features ) 2002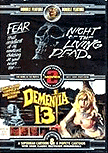 US (Catcom Video CAT0130-6) 2002
Double Feature with Dementia 13.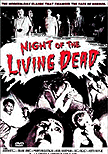 Canada (Madacy Entertainment DVD99010) 5-19-98
"Hollywood Classics". Cover: US poster art inside border with US poster art in background. Direct Scene Access, Poster, Biography of Duane Jones, Interactive Trivia and Movie Credits.

Canada (Master Tone DVD5516) 11-14-97

Canada (Madacy 9-9060) 12-22-98
"Fright Night Horror Classics". Cover is Karen Cooper's face superimposed over backdrop of cemetery tombs. Animated Scene Index, Director Biography, tools of black magic, The Voodoo Religion.

DVDs-Region 2/Region 0 PAL



Japan (Beam Entertainment BIBF-1009) 9-25-98
Cover based on Italian 2-sheet artwork. Has special features.

UK (Elite Entertainment DVD11162) 11-2-98
Same as CLV LD release cover wise but minus extras.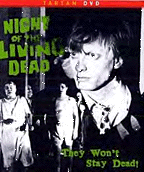 UK (Tartan TVD3313) 10-30-00
Zombie group photo with Johnny zombied on right. Green logo.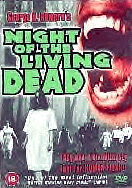 UK (Prism Leisure Corporation PPA1160) 9-1-01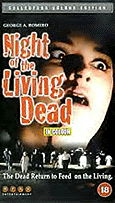 UK (Stax Entertainment STX2029) 9-17-01
Colorized edition (first ever on DVD).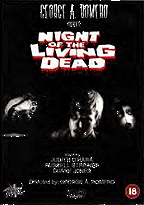 UK (Moonstone Pictures MSD-1250) 11-19-01
Region 0 PAL. B/W edition. Typo: Starring Judith O'Hara.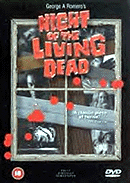 UK (Oracle Home Entertainment ORA910) 5-13-02



Germany (Kultfilm ) 1-29-02
Cover based on UK quad reissue.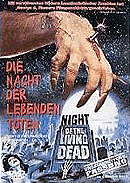 Germany (X Rated )
Cover based on UK quad reissue and German poster.
NTSC Laserdiscs:

US (3M F18) 1985
"Collectible Classics". Collage cover in black border.




US (Image Entertainment V6000) 1985
"Laser Classics". Black cover with porch zombies inside laserdisc.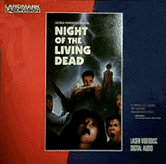 US (Republic/Landmark Laservision LV27460) 9-30-90
Another collage scheme, even depicting the machete zombie from Dawn of the Dead on the lower right corner.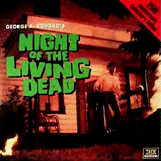 US (Elite Entertainment EE1114) 10-26-94
25th Anniversary Collector's Edition. 31 chapter stops, CLV/CAV side 3 and 4 gatefold edition with script, still gallery, Latent Image and personnel filmographies, trailer, TV Spot, interview with Judy Ridley, excerpt and trailer for There's Always Vanilla. Side 4 has personal scrapbooks, posters, collectibles, Night of the Living Bread parody, Duane Jones last audio interview. Plus two commentary tracks. Ben color shot on front. THX approved digital sound mono.

US (Elite Entertainment EE1115) 11-27-96
CLV with trailer only. Karen Cooper painting.





Japan (Pioneer SF078-0074) 1985
Skull on stairs closeup. Insert, and MARTIN trailer. The End title and "NIGHT OF THE LIVING DEAD © 1978 Image Ten" appears after.

Japan (ABC SHLY-98) 7-17-97

Germany (Astro Video NF-31202-VI) 1999
CED/VHD:
Japan (Victor VHP-49187) 1985