NIGHT OF THE LIVING DEAD 1990 POSTERS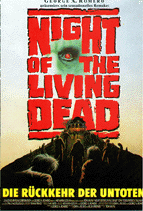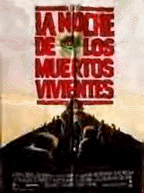 Night of the Living Dead 1990ís unimaginative posters could have aided in its unimpressive box office business. The art in the United States, Italy, Spain, Germany, France and Poland were used the same painting from Columbia Studios: A parade of scarecrow-like zombies approach a hilltop house; a red eye looms between the title graphic above.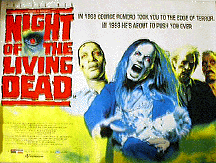 The United Kingdom borrowed the American video poster artwork for their theatrical release adding "In 1971 George Romero brought you to the edge of terror. In 1993 he is about to push you overÖ"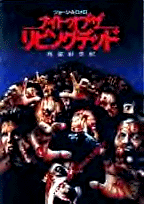 The ultimate design would have to be the Japanese scheme which utilized a composite of film stills to create a collaged zombie crowd on a purple background. Australia's video poster (16x31) also is notable for its use of a single still (zombie struggle in the cemetery).

Fangoria magazine issued a 11x31 blow-up of the cemetery zombie in Issue #101 and a 11x23 blow-up of the window zombie in Issue #10 of Bloody Best of Fangoria.

The American press kit included just 3 black and white 8x10's: zombies in original (shorts zombie and group)/Zombies in remake by truck, Harry and Barbara struggle with gun by window, George Romero. The folder art is a cruder version of the US one-sheet. Six 35mm slides: Cemetery zombie, McGruder being held off by Ben, zombies by truck and torch, zombies covering countryside at night, Harry and Barb struggle with arms through window and Romero close-up. These complete kits are $10-20 now.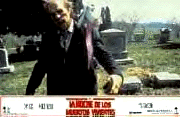 Shots in the Spanish set of 8 color 9x13's included an advancing cemetery zombie, zombies pursuing Barbara, Sarah behind Helen, Sarah about to bite, the strangers outside of farmhouse with guns, housewife zombie, bikers with zombie in ring and Barbara walking by posse dragging body. Similar shots were issued in France but with a few close-up zombie shots.

Twelve color 9x11 or 11x14 lobby cards came from Germany: Johnny and Barbara struggle with cemetery ghoul, zombies pursuing Barbara, Barbara with Uncle Rege behind her, Tom, Judy and Barbara fend off zombies by window, Barbara (in tanktop) and Harry fend off window, Barbara and Helen look outside window, Helen and zombified Sarah behind her, Ben and Barbara over dead cop zombie, dollís mom zombie, Barbara by truck, bikers with zombie in ring, Barbara walking by posse dragging body. As expected, Japanese program books were produced with the style A poster art and 24 pages of mainly black and white photos.