NIGHT OF THE LIVING DEAD 1990 LITERATURE, MISC. & UNLICENSED ITEMS

Scripts:
February '89 draft by Romero

Program Books:
Japan
Cover same as Japanese Style A poster/handbill. Mainly black and white photos.

Cover feature magazines:
Fangoria 11/90 #98 Savini int. (zombie face cover)

Bloody Best of Fangoria 91 #10 cancer zombie poster

Crew Shirts:
Crew Jacket (purple suede sleeves/red logo on back)
Crew shirt-Black (old NOLD logo 1990/1968)
Other wearables:
Shirt (white with red logo; glow in the dark green skin/redeye)

Shirt (red with white logo; no eye)




Button (white - rectangular shape - vertical logo)

Press Materials: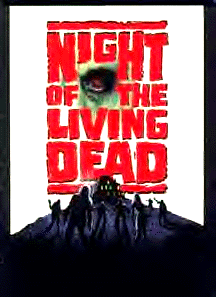 US presskit :
Folder (with advance hill artwork) and Three black and white stills. Folder features art like the US one-sheet but it is different, cruder. Six slides:
1. Cemetery zombie
2. Magruder being held off by Ben
3. Zombies by truck and torch
4. Zombies covering countryside at night
5. Harry and Barb struggle with arms through window
6. George close-up

Soundtracks




CD (Numenorean Music NMCD002) 7-02
An official soundtrack was ever released until 2002. Paul McCollough's score was generally regarded as poor by many fans and no label was interested in releasing it. (Paul was the guy that wrote a treatment called "The Mad People" that Romero made into The Crazies.) I feel the digital keyboard score really hurts the momentum of the film's action. To me it's dull because it is not a driving dynamic score as in Romero's films. It sounds like a derivative TV soap score. Even the tracks that weren't used are weak. Before this release, Paul had sold a few tapes of the score which were bootlegged for a short while. There are only 3000 of these being made by Numenorean, but I think they will have plenty of overstock!
The cover is cheap - super cheap. There are no images from the film or even attempts to replicate imagery through artwork. Instead we get silly looking, NOTLD comic book style paintings. This is due to licensing problems no doubt, but a better effort could have been done nonetheless. The NOTLD was not about skeletal corpses rising out of graveyards...but then again we had the same problem with the Columbia DVD.
Track listing: Cemetery, Farmhouse, Tensionizer, Twin Geeks, The Pity of Angels, Boarding School, Talking Points, Courage To Go, Pump Run, Zombies Win! Zombies Win!, Passage To Normal
UNLICENSED ITEMS



Cemetery Zombie resin sculpture (Gabriel Marquez, Gwin Sculpture Works) Image used with permission

Cemetery Zombie display mask (Jeff Wehenkel)