POSTERS & LOBBY CARDS


In keeping with the advertising art that started with Dawn of the Dead, the U.S. ad agency for Day decided to use Lanny Powers' bald half rotted zombie head motif again. This time, his whole face was revealed and it has multiplied (representing the zombie population) over a great big yellow sun that has now looms over the earth. A seriphed black title dominates (created by Terry Prince), casting a ominous black shadow near the bottom of the poster. The advance poster began the use of the black Night of the Living Dead and grey Dawn of the Dead sections. The soundtrack info, rating info and blurb hadn't been created yet, not until the theatrical one-sheet was ready. It was similar to the advance except the grey Dawn area had become purple, the shadow below dark blue, and the blue background was not as rich, turning a bit paler. "The darkest day of horror the world has ever known" was now the blurb. A licensed, half-sheet (22x32) by Island Enterprises minus the credits was available from FantaCo and other outlets in the mid-80's for $5. It should be said that rolled posters of any of these DO exist but are rare. A West Coast exclusive poster in white and yellow measures 14x22.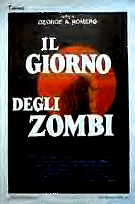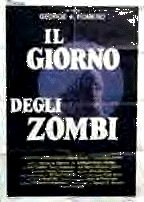 The only foreign country to utilize the same basic art was Italy except they changed the background to black and had different colored suns; red (on their 13x26 and 55x79 posters) and blue (on the 39x55). Other nations used photos for their posters.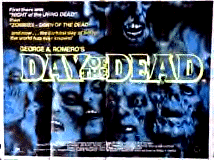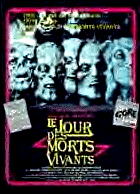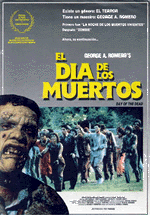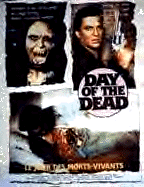 The British and French used the background masks on the wall for theirs, while the Spanish poster (26x37) used a gruesome closeup of the 'Beef Treats' zombie superimposed over the famous shot of the zombies invading the compound. The Belgian 16x22 uses photographs of a zombie closeup, Rhodes with gun, and Miguel spilling guts.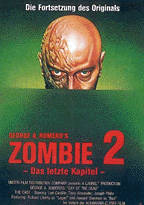 Germany surprisingly resorted to a redrawn Dawn of the Dead scheme, with a bald head (not even showing a sign of decay!) against a bright green backdrop. The same scheme was used for IMV's video release poster.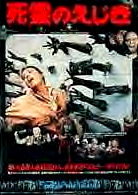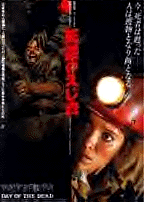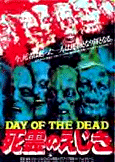 In Asia, photographic composites were used effectively in Japan. Style A with Sarah's nightmarish wall of arms, Style B with Sarah and Rickles peering through slats and Rhodes meeting his fate (zombie arms), and Style C with Rickles being torn apart/Sarah in miner hat. A rarer Japanese posterbook of this poster was also issued. For their native 7x10 double-sided handbills (or chirashi) only style A is unique, a digitized graphic of the background masks. B and C styles followed their poster counterparts. Chirashi for the video also exists.

In Thailand, posters are painted based off still frames, and usually 21.5x31.5. The principal image on their Day poster by artist B. Jinda is that of the bullet-ridden zombie near the lantern at the end and also Sarah's wall of arms once again. The 25x39 Turkish poster is a completely unrelated painting of a ghoul breaking through a window. Also note the misspelling of 'Joe Plato'.
The familiar U.S. Day logo appeared in maroon on the 24x40 Media video poster art which featured Bub leading the army of invading zombies. This painting was by the Chiodo Brothers, known for their stop-motion work. In a Billboard ad, the logo was done in white and the blurb read - 'The Dead Are Alive...'

Fangoria magazine blew up two color stills as part of the Scream Greats series. Number 23 was an 11x15 close-up of Bub eating in the lab from issue #48. In their first ever poster magazine, a 16x22 blow-up of the eviscerated zombie. Their third issue had a poster of Tom Savini and the Bob Martin ghoul. Gorezone's #2 issue had a 16x22 vertical poster of Bub with his bloodied mouth.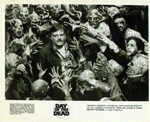 The American press kit enclosed ten black and white 8x10 glossies in its blue folder: Romero surrounded by zombie extras, Savini and skeleton, Bub shaving/Bub with tape player, Rhodes and Sarah, Miguel attacked on elevator, John/Sarah with guns, Bill, Sarah, John with guns, Logan and Rhodes in meeting, zombies entering compound. Market price today is around $40 a kit.





The British set of 8x10 lobby cards totalled eight and featured some of the scarcest scenes: bridal shop zombie, soldiers scuffle in hall, Fisher, Sarah and Logan, Bub shaves, Billy, John and Sarah guarding Ritz with guns, Rhodes and Sarah, zombies enter lab after Steel, zombies led by jogger ghoul.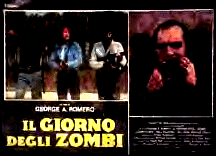 Eight color Italian 18x26 Fotobuste (two scenes per card) featured: Bill, Sarah, John with guns/Bub eating, Rhodes aims gun at you/zombies enter compound, Rhodes, Steel, Rickles/zombies near alligator, Miguel attacked on elevator/John with guns, Fisher, Sarah, Logan/red helmet street zombie, Logan and eviscerated zombie/Sarah in miner hat, Rhodes and Sarah/two captive zombies, Sarah, Bill, John guarding Ritz/Steel suicide.




Spain's set of 9x13's include Zombies walking by courthouse, Beef Treats zombie closeup, Vivisectioned zombie after spilling guts, Bub stands with tape player, Zombies entering compound, Zombie in cave invasion getting shot by Steel (Pat Logan), Zombie to left of chef getting shot by Steel in lab, Paul Gagne and zombie friends by wall




The twelve German 9x12 lobby cards included a mix of color and green tinted cards. John and Bill in helicopter, zombies near alligator, zombies on courthouse steps, Sarah in cubicle, Rhodes and Sarah (tinted), John, Bill and Sarah sitting in front of Ritz, Rhodes aiming gun at Steel, zombies entering compound (tinted), Torrez seized by zombies, aerial view of elevator zombies, Bill, Sarah, John with guns (tinted), Rhodes holding M-16 (tinted).
Ten Japanese 8x10 lobby cards (black and white) included: zombies walking by courthouse, captive female close-up, Logan and eviscerated zombie, Bub with tape player, Miguel biter zombie, Miguel being attacked on platform, Torrez head pulled off, Rickles finger being bitten off, Rhodes torn apart, zombies eating parts of him, zombies feasting in a lab room.