---
DAY OF THE DEAD
Preservation Page
drlogan.tripod.com

"Dawn of the Dead was relatively light fare. I thought it was a fun picture - a bit comic. Day of the Dead is nightmarish and scary. It's certainly scarier than Dawn. It has a certain sense of claustrophobia. It has a darker atmosphere than Dawn, a darker outlook." – George Romero (Forrest J. Ackerman's Monster Land)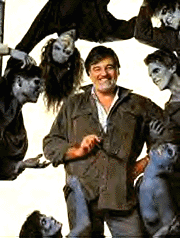 "Stunning...memorable score...excellent performances...more controlled and assured than the often slapstick heroics of Dawn of the Dead...better plotting and characters than the previous installments. (Video - The Magazine)
"Romero's new film is in a class by itself, far removed from the schlock horror that has dampened ardor for the genre for years. A well-paced, viable plot, dependent on strong characterizations, precipitates the horror elements, delivering scares at just the right time. (Cinefantastique's Dan Scopperati)
Day of the Dead originally was outlined in a 40-page treatment written by Romero in 1978 called "Old Soldiers Never Die - Satan Sends Them Back". This copyright secured a projected trilogy. As the souvenir poster book t-shirt ad for Dawn of the Dead promised, it was slated for a 1988 release. As part of a three-picture deal with Laurel Productions and Romero about to leave the company in 1985, it was now or never. The 104-page second draft was trimmed down from the original draft by 100 pages. The cost had to be brought down from the projected $6.5 million which would have been too chancy for an unrated, graphic 'epic' horror film so it was re-projected to $3.5 million.
DISSECTIONS

UPDATES
NEWSPAPER
F.A.Q.
INTRO
SYNOPSIS
CAST
CREW
PREPRODUCTION
PRODUCTION
DISTRIBUTION
LITERATURE
POSTERS
VIDEO
COLLECTIBLES
PROPS
LOCATIONS
SOUNDTRACK
LINKS
View My Guestbook
Sign My Guestbook
"They have overrun us you know. Something like
to one by my calculations."
Est. 3-99
NO part of the site may be copied on any medium, translated to any medium, or duplicated electronically or otherwise, without expressed permission of the webmaster. I don't care if you own a license in Afghanistan, consult me first.
"We've been punished by the Creator ... punished for our sins."