DAWN OF THE DEAD UNLICENSED ITEMS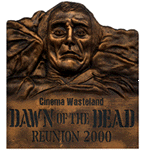 In Sept. 2000, Ken Kish, a Dawn fan and owner of Video Wasteland, organized a first ever exclusive Dawn reunion. Chris Stavrakis, Taso's brother and part-time webmaster, was one of Ken's helpers for the event, finding cast members and designing some wonderful pieces himself to sell at the show. Among his creations, fridge Magnets and a resin plaque painted bronze, of which 12 were made.


Program book

T-shirt
Ken Kish designed. Flyboy in top right.
8x10 Lithographs

Pittsburgh Comicon 2001 17x22 commemorative poster by Brian Rood



"Zombies Im Kaufhaus" (Zombies in the Shopping Center) was the name given to a composite print that GMT of Germany bootlegged in 1995. Made up of inferior sources, for an incomplete grand total of 145m. Had they truly used every shot, the running time would accurately approach 152 mins. Another copy of this surfaced in Switzerland under the non-existent Atlantis label.

Eden Club of Italy issued Zombi in 1998 with an image of the bald zombie on front - but with photos of the Torrez head and street zombie from Day of the Dead! On top of this, some scenes are tinted red! Can you trust a company that can't get the films right?

One of the tackiest covers has to from Aussie company Empire Films Pty. Ltd, which were illegal copies of Anchor Bay videos that surfaced in 2000.

Software
France-video game for Amiga

Japan

Resin Models/Sculptures:

Flyboy (Attack of the Clay People!; Barry Crawford) 1993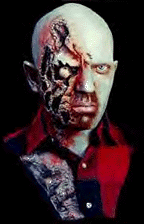 An excellent Flyboy bust called "The Pilot" was sculpted by Chris Stavrakis and his Grecian Urn Studios in 1998. A number of fans online have ordered them unpainted and did theirs in cartoonish blues or greens, which is terrible considering that the piece is extremely faithful and detailed. A well-known special effects artist designed the airport zombie privately in the spring of 1999, but it was so good, I had to show it off here.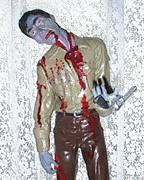 Paul Gill of Creatures From the Bronx River Productions, made a Flyboy in 1994 which is fairly rare today. "New Dawn" was a different idea from sculptor Dave Kawano and Redrum Resin in late 2000. It is not the most interesting resin kit to put together but a decent 1/6 scale rendition of Roger awakening on his death bed.
Display Masks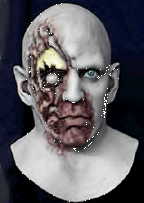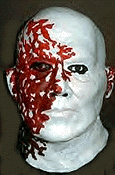 Jeremy Bohr wowed many fans with his pricey Roger display mask in fall of 2000. The ultimate Dawn mask in terms of likeness is John Smith's Airport Zombie, from Death Studios, 2001. When you seek this one out (it was only $60), say T5 sent you. On the right is what looks like a fan's attempt at a poster style Dawn mask, but I suspect it was merely a Michael Myers conversion mask gone awry.
Another collectible mask would have to be Flyboy from Jeff Wehenkel. Don't hurry to Jeff for one though. As with all his zombie creations, there was not a ton made.
T-Shirts:


With the crew shirts virtually unattainable by the mid 80's, collectors began influencing a number of specialty shops to create their own unlicensed but still effective shirts for the masses. One of the most famous is the one from Hollywood Book and Poster. These are no longer available thanks to a threat from Rubinstein and MKR. a few years ago. Rotten Cotton heroically have ignored MKR's admonitions to avoid using the "Dawn logo" by appointing one Chas. Balun to create a slew of shirts for their own profit. It should be noted that Rotten Cotton does many B movies and also DBA Blackest Heart Media.








Ken Kish has put together many horror shirts over the years. Before he was organizing Dawn reunions he was selling the shirts. In 1994, he began selling an Andy Warhol-style shirt of the bald zombie, and a horizontal logo shirt modeled after the press sheet ads. In 1997, he designed another for his pal David Emge.

US-Black-bald head in green, red logo (Sick Inc. 1998)
UK Zombies quad art (Static tees, 1990)
Fan Art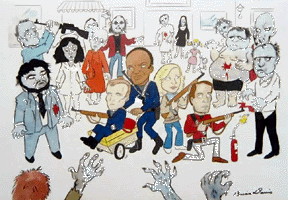 Caricature print. 11x17 Ltd. ed. of 100. Artist Brian Davis.