DAWN OF THE DEAD MISCELLANEOUS GOODS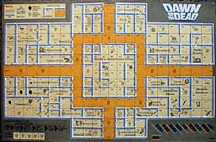 One of the most sought after collectibles is the board Game put out by the ultra-cheap SPI company during 1979. John H. Butterfield is the game's designer. The box reads: 'Fantastic fun for two to four gamers or for one player using the intriguing solitaire version...Accurately recreates all the action and tension of the great original film scenario!' the playing board is not a board at all but rather a thin sheet of 17x22 paper. The Japanese also licensed the game retaining the exact cheesy box art.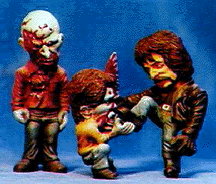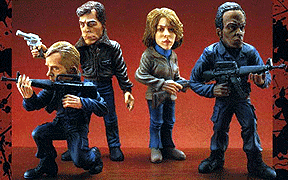 The Japanese were wise to make official Zombie toys in addition to their licensed clothing in 1995. Fewture toys decided to make figurines, much like the Deforms, or Little Big Heads of the U.S. Bald Zombie, Blades and Machete Zombie were the only ones available in the first series. A second series with each of the four humans was never issued due to poor sales of the first set.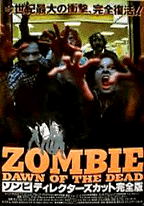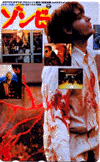 Gaga Communications was determined to market Zombie for 1995. Three 20x28 posters were reissued: one chrome with the gas mask design, another of the elevator scene, and the French/Italian zombie crowd art. Other paraphernalia pumped put included two t-shirts (gas mask or elevator schemes), a comic book, a baseball cap reading Zombie, a bomber jacket, a postcard, a chrome mylar sticker, telephone card and three different newspapers with a smaller pre-issue.

In the U.S. in 1998 Anchor Bay sold shirts (the Andy Warhol-esque video motif or the bald zombie) and yet another baseball cap of the bald zombie.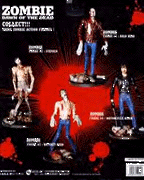 In 1999, Reds Toys was licensed by Gaga, to issue action figures for Zombie. There was high expectation but ultimately highly exaggerated, anorexic caricatures of familiar characters: Bald Head, Stephen, 'Hatchet Head' (machete zombie), Motorcycle Raider (Tom Savini's Blades character). They sold poorly like the Fewture toys before them, but it has nothing to do with Dawn not being popular and everything to do with bad sculpting.

Crew Shirts:
Black
Lanny Powers drawing of head over horizon. Romero signature on back in box

Prints:
Germany - Zombie - Super 8 on 3 reels: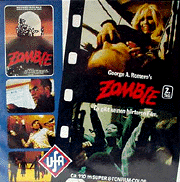 UFA Buscher-Film 110m Super 8 color, 416-1 Reel 1, 417-1 Reel 2 and 418-1 Reel 3


UK Souvenir Button
They were your friends..

Commercial T-Shirts:
Black
Bald head design with "When there's no more room in Hell" blurb on back.

Shirt (gas mask)
Shirt (elevator)
Comic
Black cap
Black crew jacket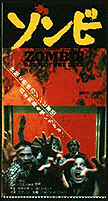 1978 Ticket

Related Collectibles

Video:
Dario Argento's World of Horror (Vidmark VHS 1986 or Image Entertainment laserdisc, or Synapse Films DVD 1998)
Clips from Dawn and footage of Goblin.