DAWN OF THE DEAD LITERATURE

Suzanna Sparrow and George Romero's 11-chapter novel tie-in closely follows his original script even down to the inclusion of the dead mall president C.J. Porter of Amalgamated Industries and Fran's puppy Adam in the mall. In fact, the department store Penney's is changed to 'Porter's'; another fictitious store is named Stacey's. As with the script, zombies are almost never described in great detail leaving everything to the imagination of the reader. Romero reasons "I don't write about them because I never know who's going to show up as extras! You never know what kind of costumes you're going to get." (The Zombies That Ate Pittsburgh). In places that approach is not too personal as it seems on screen, as in the case of the ghoul that terrorizes Fran in the supply room. No attempt was made to build a background for that poor Krishna zombie! Still more than one reminder of the parallels between zombies and zoned-out human mall patrons is to be found, as well as numerous references to how archeologists might speculate on the significance of the shopping mall in the post-apocalyptic future.
While the visual shocks captured on screen are hard to describe in print, there are the advantages of fleshing out backgrounds for the characters. In the beginning, Fran wakes up from what seems like a nightmare in the film version but here it's more of a domestic fantasy. She is apparently washing dishes and her ex-husband Charlie Parker is kissing her neck. As a side note, she is 23 and her hair dyed blonde. Roger is a divorced Vietnam veteran; Wooley another vet from Alabama. We find that Roger's drinking buddy, Steve, pilots the copter over his favorite sights in Philadelphia like the Rodin Museum and Independence Hall as if saying farewell. He wonders whether his parents would survive during this emergency. He had set his sights on becoming a reporter to their disappointment and now that there was a big story to cover, there seemed to be no one to broadcast to. Neither of Peter's parents were alive and as he tells Fran in the film, he is leaving behind some brothers-one a pro ball player and another in jail. From the copter windows in an early morning flight, he notices factory fires below and wonders what the Amish people of Lancaster, PA may be doing during the disaster.
More benefits of reading the novel can be found in more emotional images not utilized in the movie: a couple pray at a homemade altar in the tenement and a family are led out of their home including a small child with a beat up stuffed rabbit toy. More unseen chaos is hinted at in the descriptions of civilians who have armed themselves with tire irons and switchblades. These people surrender to the S.W.A.T. Also Fran's inner turmoil of her imminent child's future is thoroughly covered and by the end she definitely seems determined to have a "home birth" if necessary.
The radio announcer explains that chemicals are being developed to cloud the motor coordination of the ghouls but that in Nevada where they are being tested via crop-dusting planes, the hallucinogens seem to have more of an ill effect on people rather than the corpses. After Peter's tennis game on the roof, there is a bizarre mention of naked zombies in the parking lot with large gaping wounds. Fans can also plot the timeline of events better with the novel. For instance, the narrator confirms the group had been in the mall for three months just before Fran begins her flying lessons.
A few of the biker descriptions are a little too unlikely. The lead raider with the binoculars on the roof is described as long-haired, wearing a Viking outfit replete with helmet and sandals and aptly named Thor. The character of Blades is called Hatchet here, who wears a denim jacket and is bald with an eye patch and only one ear. Thor seems to have the dialogue Blades does in the film. A third man is on the roof in the novel – Old Nick, who like his namesake resembles Santa Claus. Another unique character to this book, is a blonde woman all in leather named Chickie, picked up by the raiders in Pittsburgh. She drives the van – which here is painted in a psychedelic style. The biker deaths are not graphically described as they are not in the script and neither are they here. And yes, the filmed ending is described and even Adam survives!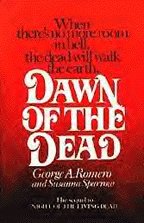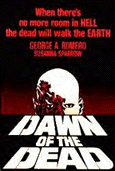 Hitting bookstores Halloween 1978, the first printing by St. Martin's Press (ISBN: 0-312-18393-3) was 210 pages, a hardcover with orange dust jacket. Text on the hardback inner sleeve and backs of the softcover read: "George A. Romero's terrifying vision is too real to dismiss lightly. It is a movie that will become a landmark in the history of film-making, and a novel so powerful no one will be able to put it down." A Book Club Edition hardcover was 188 pages and almost identical.
The aforementioned trade St. Martins softcover (ISBN: 0-312-18394-1) had a few printings. All have eight pages of color photos and 210 pages, with black and red variations of the US poster art. In 1979 it sold for $4.95. Ten years later the second printing was available from horror merchandiser FantaCo in New York. The company made sure its name was on it very loud and clear by incorporating onto the cover, and by placing the photos inside in a different order on matte paper. By this time the book was selling for $8.95 and added the bald zombie graphic on the back with a write-up mentioning Day of the Dead and critic Roger Ebert (mentioned as Robert Ebert).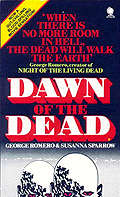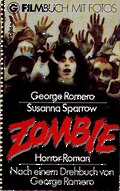 Sphere Books Ltd. gave us the British softcover (ISBN: 0-7221-7452-7), six pages longer in page length, surprisingly not titled Zombies. This time, two bald heads are on horizon! However, the poetic text on back tells us nothing about the story as if Sphere had no idea what it was about: "Monsters do exist-in us and among us. They walk in our shadow, they can prey on us more as we fear them less. We should know, we created them. Now we try to tell them to go away. Our new and knowledgeable ways provide a certain freedom for the dark creatures…" One of the more unique covers came from Germany (Goldmann Filmbuch #3895, ISBN: 3-442-03895-2) the same year. They went with the German Style B art, and unlike the British, they included photos.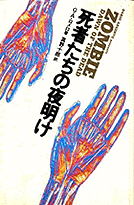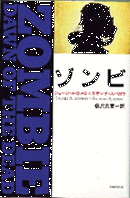 The Japanese printed it twice as Zombie. The first from Herald Enterprises (ISBN: 0097-791137-7636) is more unusual with a dustjacket illustrated with Gray's Anatomy-style hand muscles. In 1994, Yoshihiro Fujisawa's 269-page reprint (ISBN: 900387-74-6) reverted back to the gas mask silhouette motif.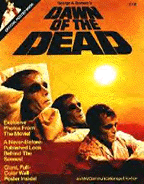 MW Communications' US official posterbook featured Bob Michelucci's Roger transformation collage (later used on the American video) with Stephen zombie in left corner. Reveals two posters and press information. There are also German, Austrian and French programs, the latter of which is nicest, with many photos.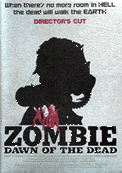 The Japanese released three programs. The Perfect Collection laserdisc box set included a program which was also issued with the cover on the right
Other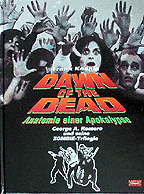 In 2002, German fan Frank Koenig published his Dawn of the Dead: Anatomie einer Apokalypse through Medien Publikations and Werbegesellschaft GmbH MPW (ISBN: 3-931608-49-2). Its cover is similar to the German novel but it is hardcover, 256pp, and has color stills from all three Romero films.
X-rated Taschenbildband #15 (1998
Cover Feature Magazines: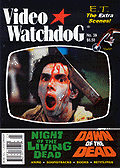 Video Watchdog Spring 97 #38 (machete zombie cover-covers laserdisc/NOLD too)