DOCUMENT OF THE DEAD

"I had been sent the Dawn screenplay and shooting schedule, which we took turns reading in the seven hour car ride to the mall. The script was dark in tone, not unlike Night, so we were not expecting what we found: pie fights, a bubble bath in the mall fountain, and Romero running around as a zombie Santa Claus." – director Roy Frumkes (Fangoria)
In 1977, a teacher at the New York School of Visual Arts at the time, Roy Frumkes was given $7000 from the school president Silas Rhodes towards filming a 30 minute documentary on one of two independent, low-budget productions : Earl Owensby's Wolfman or George Romero's Dawn of the Dead. Frumkes didn't know it yet but his featurette was going to turn into a monster: in the end it would cost $33,000 to complete. He told Fangoria that Richard Rubinstein "invited me to the Pittsburgh shoot with one provision, this being the largest project Romero has ever undertaken, I was not to venture within 100 feet of him while he was working, which Rubinstein anticipated him being every waking moment. I made sure we packed telephoto lenses." Frumkes and crew arrived in February 1978. The goal was to finish and release the documentary simultaneously with Dawn. By April 1979, Dawn was already in release and Document was not finished. Frumkes interviewed Romero at the Laurel offices in New York, also picking up shots of the Times Square billboard for use in the post-production section of the feature.
In August 1979, Frumkes recorded his own voice for the narration then rejected it, pursuing a female narrator. Gaylen Ross was not interested (she declined interviews and doesn't appear in his film). Even Murder She Wrote's Angela Lansbury backed out last minute. The job went to Susan Tyrell, who enthusiastically volunteered unknowing of what the narration was even for. After the tracks were recorded and edited, completion of the film was halted again by another unexpected event.
"We discovered that 10% of the negative had disappeared. An incredible 66 shots were missing! We put up reward signs, scoured the school and had Technicolor Laboratories search their negative storage vault. Nothing." Frumkes was so desperate he actually phoned a psychic named Nancy Orlen Weber to recover the material.
Touting its Gold Award won from the Houston International Film Festival, the feature finally premiered January 19, 1981 at Joseph Papp's Public Theater in New York to mainly mediocre reviews. The most positive came from the New York Daily News which called it "a rare blend of erudition and entertainment." When Day of the Dead premiered in New York, Document was screened again (on a double bill with Demon Lover Diary) but no wide distribution deal, such as home video was in sight. "The offers we were getting for the U.S. weren't enough to make a distribution deal worth our while. Our highest advance offer was $5000 and that would barely pay what we owed the lab. So we held out."
Frumkes had now written and directed his first feature, a bizarre horror comedy called Street Trash. The effort to get Document released remained on the back burner until 1988 when he was approached by a former student named Len Anthony who owned his own entertainment company. Two years after Romero biographer Paul Gagne claimed Document was not likely going to ever be available on video, Off Hollywood Entertainment had a video (OH 333) ready for August 1989 with an unnecessary addendum on the set of Two Evil Eyes, Romero's second collaboration with Dario Argento.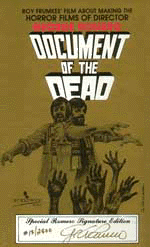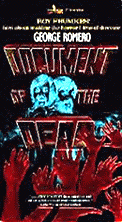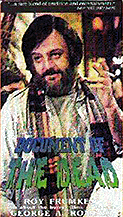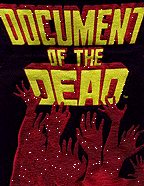 The initial 2500 copies of the gold clamshell editions came with slipcase and were autographed by George Romero; these were pumped by Fangoria magazine advertising and originally sold for $150.00. The regular black smallbox versions, with raised image of George and zombie hands, sold for $89.95. A black t-shirt of the video cover was shipped free to first orders. Once the video went out of print, Tee Dee Gee Distributing (401) – a division of Hen's Tooth Video – reissued it in 1996 with a still of George Romero and tacky 'green slime' lettering.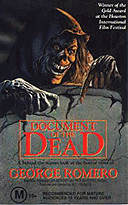 On VHS PAL format, it saw release from UK's VCI Distribution (V3360), Australia's 4 Front Video/PolyGram (6311963), Germany's United Video (BEST-NR 4613) – all of which used the spectre artwork from European Creepshow posters and had not one still from Dawn on their boxes!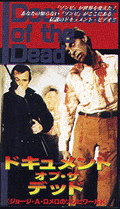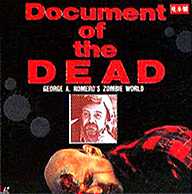 The Japanese company ABC to issue a VHS (CABV 1001) in 1994. The cover was a nice collage of stills; Flyboy zombie on cover with superimposed Roger on right holding M-16. Their laserdisc (SHLY-51), also subtitled "George A. Romero's Zombie World" had a black cover with blood spatterings, a centered Romero pic and a still of the fallen bald zombie superimposed on the bottom.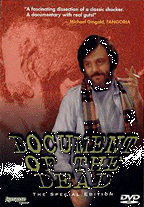 The first American laserdisc arrived five years later from Synapse Films (SFL0001), the same newly restored print as the DVD (SFD0001) which had come out in 1998. This "Special Edition" is 84 mins. and features an audio Frumkes commentary, with six minutes of previously unused documentary footage.
The older, inferior print was broadcast on Independent Film Channel during October 2001 in their Behind the Screams series often back to back with Dawn.

Featuring George Romero, Richard Rubinstein, Tom Savini, Michael Gornick, Carl Augenstein, John Amplas, Ken Foree, David Emge. Writer/Producer/Director: Roy Frumkes, Director of Photography: Reeves Lehman, Second Cameraman: James Callanan, Associate Producer: Sukey Raphael, Sound Recordist: Sal Yannotti, Camera Assistant: Wellington Fung, Still Photographer: Ted Bonnitt.