COLLECTIBLES


Before the script redux was finalized, a couple of early t-shirts were made up and worn by crew. The earliest crew shirts were based off Derek Devoe's skeletal pre-production sketches accompanied by a somewhat unimaginative bloody style writing of the film title. These were followed by black crew shirt that seemed to have religious connotations – a white crucifix with bloody Day of the Dead lettering on top of it. Better crew shirts emerged once an official logo was devised, mainly printed on red, blue and yellow tees.



Day was the first of the Dead trilogy to have more than one commercially available shirt. The two main styles were that of the poster image on blue with a yellow sun/black logo, and that of Bub saluting on grey with white logo. They were made by Island Enterprises of New York and sold for $5 in 1985, through outlets like Fantaco. In 2001, Hollywood Web Shop sold a licensed shirt based on the advance art but in extra large only.


There were also promo buttons that were released via the presskit for movie theatres and these turned up at horror conventions in great quantities. They are not rare at all and should not be sold for more than $5 each.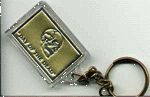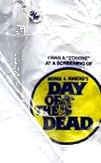 Among the rarest of souvenir items, is a white painters cap, given to extras, which read "I Was a Zombie in Day of the Dead" in a most generic typeface (even for 1984). A special "bat hat" was given to crew. A paper thin promotional windbreaker jacket was given to winners of a zombie costume contest at the New York City premiere as was a special keychain made for the United Artists Theatre across from Laurel's offices. One side is simply a clipart image of a skull, the other is the address of the theatre. A better-made red vinyl jacket was also produced, but only for crew.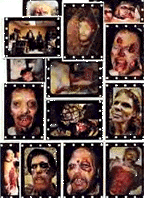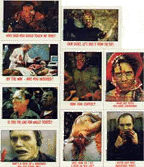 Nineteen cards out of Tom Savini's Grande Illusions trading card set (Imagine, 1988) and 9 from the witty Fright Flicks set (Topps, 1989) had Day of the Dead images. Plastic lunchboxes in red or blue with the front of the 1993 press brochure pasted on them were sold by Taurus Entertainment for $25 in 1997. The press brochure actually commonly sold for that much, with its hypercolor Chiodo artwork from the Media video and "Once again, the dead will have their day" written above. Taurus's redesigned logo as on the Japanese laserdisc appears all over it.
FAN MADE (UNLICENSED) ITEMS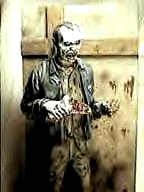 Paintjob by Rob Irwin
So far only three Day resin figure models have turned up, two sculpted by William Paquet in 1992. They are each a little over a foot tall and were originally sold through KDM Productions. California-based Monsters in Motion may still be able to locate these discontinued pieces. Dr. Tongue strikes a comic book pose instead of his stuff shambling normal self. He comes with a cute little Wall Street Journal that says 'The Dead Walk!' The cool feature about this model is the hair you get to glue on. The Bub model is in an experimentation room with a severed foot as a reward in his hand. Barry Crawford also created a cute Bub for his line of 'Clay People' around this time.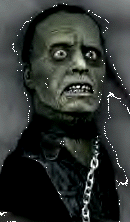 The Captive is a Bub maquette by Chris Stavrakis.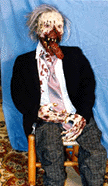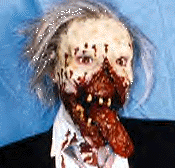 An anonymous artist made this Dr. Tongue doll which used to show up on ebay from time to time.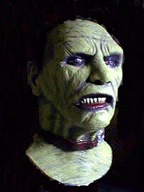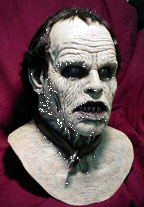 Very few Day enthusiasts are aware of the masks that some talented artists have created. Jeff Wehenkel was first with Bub and Dr. Tongue in the late 90s. In 2002, Russ Lukich achieved a stunningly detailed (if not a dead on likeness) of Bub. All twenty in this limited edition were sold (his profit: over $5500).